The Eden Prairie Alpine Ski Team has combined coaching experience of over 45 years with multiple alumni coaching the team. The coaches bring experience at the D-Team, Collegiate and Club levels outside of their high school coaching experience to the athletes on the team. Many of the coaches have also raced in high level races from State meets to National collegiate races. Our coaches take pride in providing an environment that nurtures a passion for the sport of skiing and ski racing.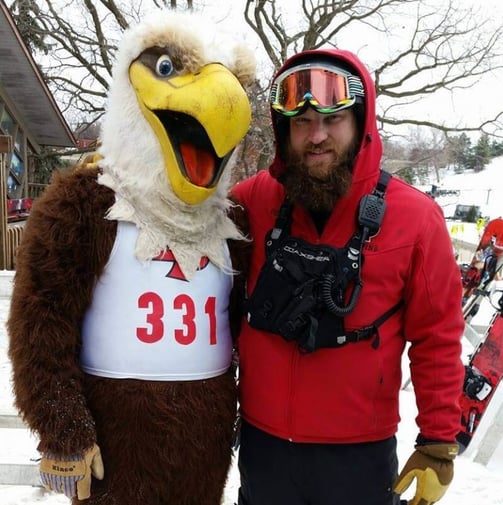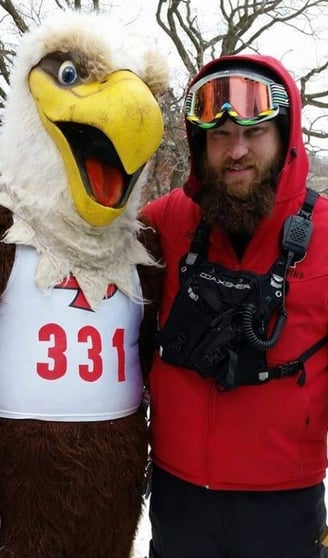 Coach Nate started skiing when he was six years old at Hyland Hills on a Cub Scout trip. Since learning how to ski he has worked as a Professional Ski Instructor of America at numerous ski areas including Hyland Hills, Spirit Mountain, Beaver Creek and Buck Hill. Nate attended the University of Minnesota Duluth and was part of UMD's Alpine Ski Team. While skiing at UMD he was able to be a part of numerous USCSA National qualifying teams. Nate started coaching High School Skiing in college and has coached at three different high schools since. Nate coached in Duluth from 2001 to 2007 and has been with Eden Prairie Alpine since the 2008-2009 season. He also is a member of the Minnesota State High School Coaches Association and sits on the advisory panel to the MSHSL for Alpine Skiing. Nate also is a certified USSA Official and Coach.
Nate attributes his love of coaching to being able to work with great young people who want to push themselves on the hill. He loves the moments when a young athlete discovers a skill for the first time. Nate's purpose as a coach is to inspire athletes to have a great work ethic, with the grit to be able to work through struggles and challenges all while being honest with themselves and others. All these things he believes will create universal respect for the sport and the environment in which we compete.
When Nate isn't on the snow he works for the Minnesota Department of Natural Resources as a Park Ranger and Wildland Firefighter. He enjoys spending time with his family, going on outings with his son's Boy Scout Troop, watching his son's play baseball, umpiring baseball, camping, hiking, hunting, fishing, spending time on the lake and going to concerts with his wife. Nate also enjoys playing "old man" softball and cooking good BBQ on the smoker.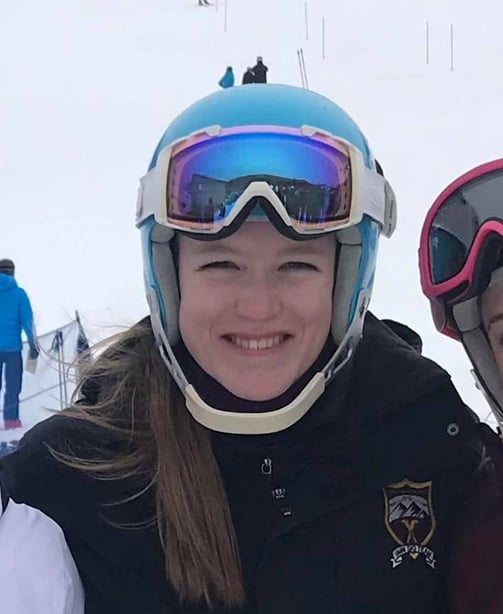 Kelly began skiing at the age of two at Hyland Hills. She joined Team Gilboa Alpine Ski Team when she was five with her mom as her first coach. Her love for the sport continued to grow as she raced from then on all throughout high school. She competed all over the Midwest and even a few times in Colorado. She joined Eden Prairie Alpine in ninth grade and raced for both her club team and high school team. She was a captain her senior year and gained solid leadership experience through that role.
After high school, Kelly continued her ski racing career at the University of Minnesota. She graduated in the spring of 2020 with a bachelor's degree in interior design. She continued to be involved in the sport by coaching for Team Gilboa's junior race program for the last three years. She has been coaching for Eden Prairie Alpine for a number of years and enjoys coaching at the high school level. She is looking forward to coaching again this upcoming season.
In her free time, Kelly enjoys cooking, baking, spending time with family, and watching a quality TV show.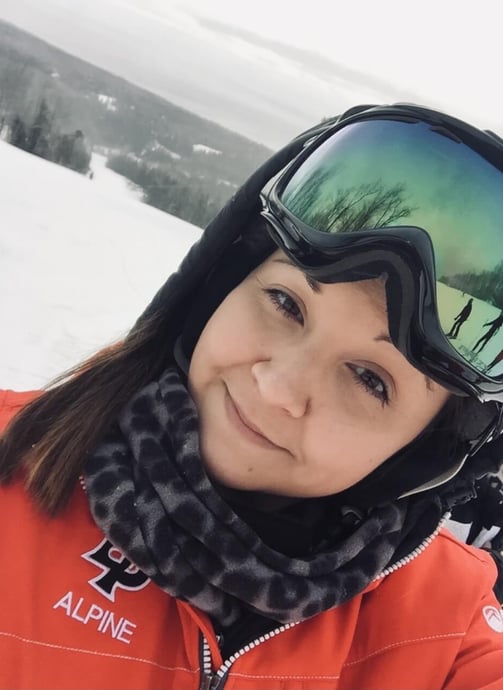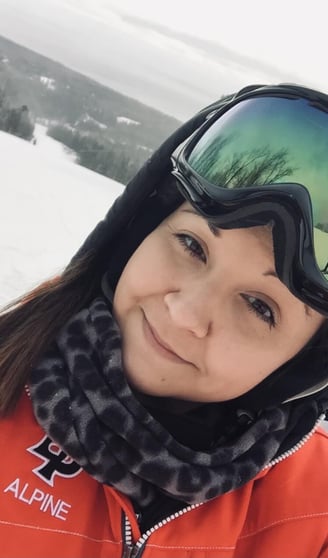 Coach Steph started skiing when she was six years old. Her father taught her how to ski and got her into ski racing. She started racing for the Hyland Hills Ski team at ten years old, where she fell in love with ski racing. Steph's father was one of her coaches through high school while she participated on two ski teams. She raced for Eden Prairie High School from 2002-2006. Steph can relate with the athletes when they say "I basically live at the ski hill." Steph planned to ski in college but a bad knee injury her senior year changed her plan. Steph is able to relate with the athletes that are trying to come back to the sport they love after an injury setting them back.
Steph's coaching background started from the teaching ranks. She started instructing at the age of 15 working as a professional ski instructor at Hyland Hills. She often worked with kids 4 to 7 years old who had never skied before and found a passion for working with this ability group. A few years later she then started coaching for Hyland Hills Ski Team at the age of 17 where he coached for four years when she before realizing she was ready to try coaching high school ski racing. Steph started coaching at Eden Prairie High School while still in college, for the 2009-2010 season.
One of the things that she enjoys watching is how the athletes become better ski racers. Helping them through the ups and downs of racing, and showing them if they put in the hard work it will pay off both in ski racing and in life. Steph is also a member of the Minnesota State High School Coaches Association and has been previously named the MSHSCA Assistant Coach of the Year.
When Steph is not on the snow, she works at a Specialty Animal Hospital and takes care of sick pets. She has loved animals since she could walk; dogs are her favorite! She enjoys spending time with her family, friends and her dogs. Steph loves to travel to warm places. Especially to the Caribbean! She loves spending the day at the beach.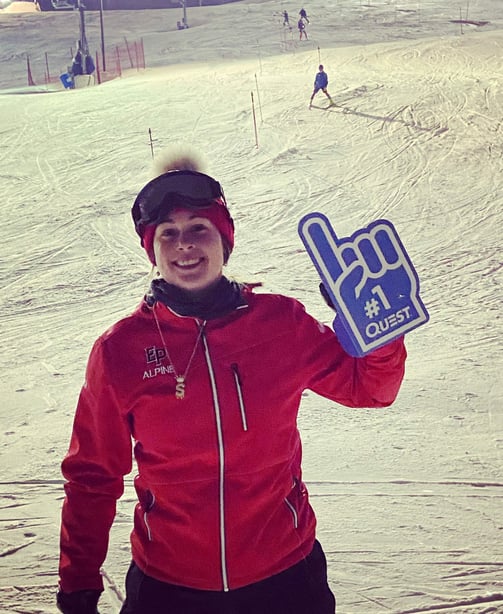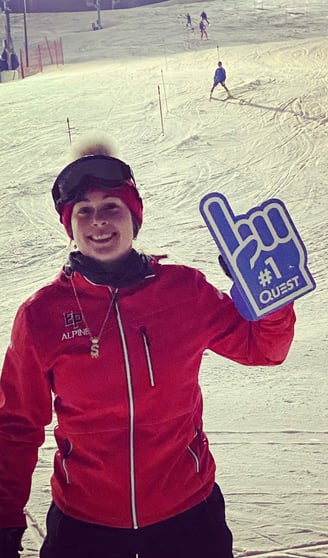 Coach Kelsey learned how to ski when she was the tender age of 5 years old. In 5th grade she started racing on the Buck Hill D-team and transitioned to the Buck Hill USSA team a handful years after that. She also raced for the now defunct Shakopee-Prior Lake high school team from 7th-12th grade. Kelsey heard a "rumor" that Prior Lake actually has their own team these days! When she wasn't racing on the hill she was teaching in the ski school. This is her fourth year coaching with Eden Prairie and she hopes to continue to bring the sparkle. Before coaching with EP she was a coach for the Buck Hill D-team.
Off the ski hill she enjoys getting outside and being as active as possible. She still plays soccer regularly and also took up softball and kickball as an adult. If she isn't out leading a team to co-rec victory, she is likely golfing, biking, or out on the lake. For any Badger fans out there, she is a proud alumna and could be categorized as a little extra when it comes to her fandom. She currently resided in Edina with her husband and two dogs.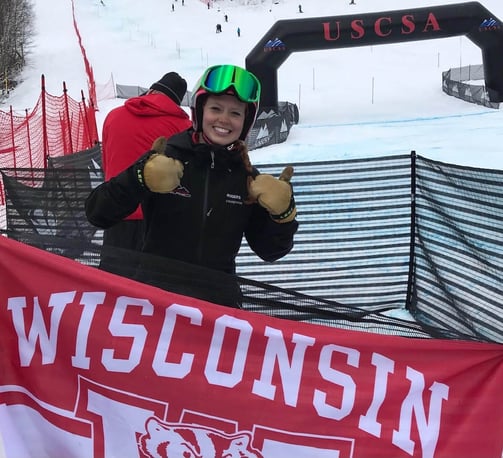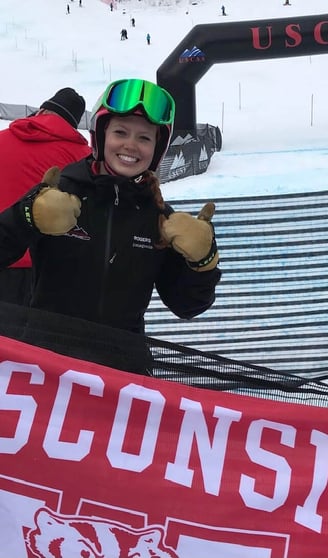 Carly started skiing when she was very young, however she did not start racing until high school. Carly's mom actually forced her to go to the first dryland practice, but she is very grateful she went. EPHS Alpine has been a source of long time friends, fun winter days/nights, and burger Fridays. It also led her to join the University of Wisconsin-Madison Club Race Team, and she absolutely loved her four years there. When Carly is not skiing this year, she will probably be at work developing medical devices, going on walks with her roommates, or baking with her sister.